Microbrewery used craft brewery equipment for sale
Beer brewing machine system brewery equipment produced by us is a set of technological equipment for the production of "live" and filtered beer. Brew master make their beer attractive to consumers by unique brewing process and distinctive beer taste.
If desired, they can be placed directly in places of consumption of beer: restaurants, pub, bars, hotels, tourist and shopping centers. Interpreter may be faced with polished brass, copper besides stainless steel.
Also, the microbrewery system is placed behind a glass partition that allows visitors to observe the process of making beer. This is an excellent design solution interior and a powerful marketing tool.
Most installation in restaurants, bars and hotels used microbrewery with a capacity from 200 to 1000 L. A network of restaurants uses equipment with higher capacity. microbreweries are installing at the customer's company turn-key. To release a less than 200 L of beer per day is unprofitable, so the minimum performance of our equipment is 200L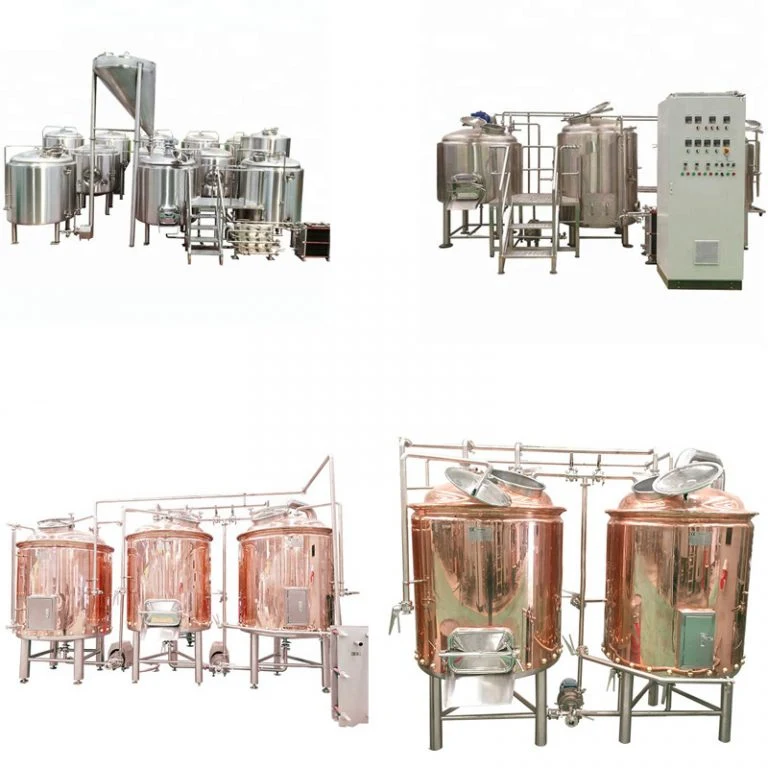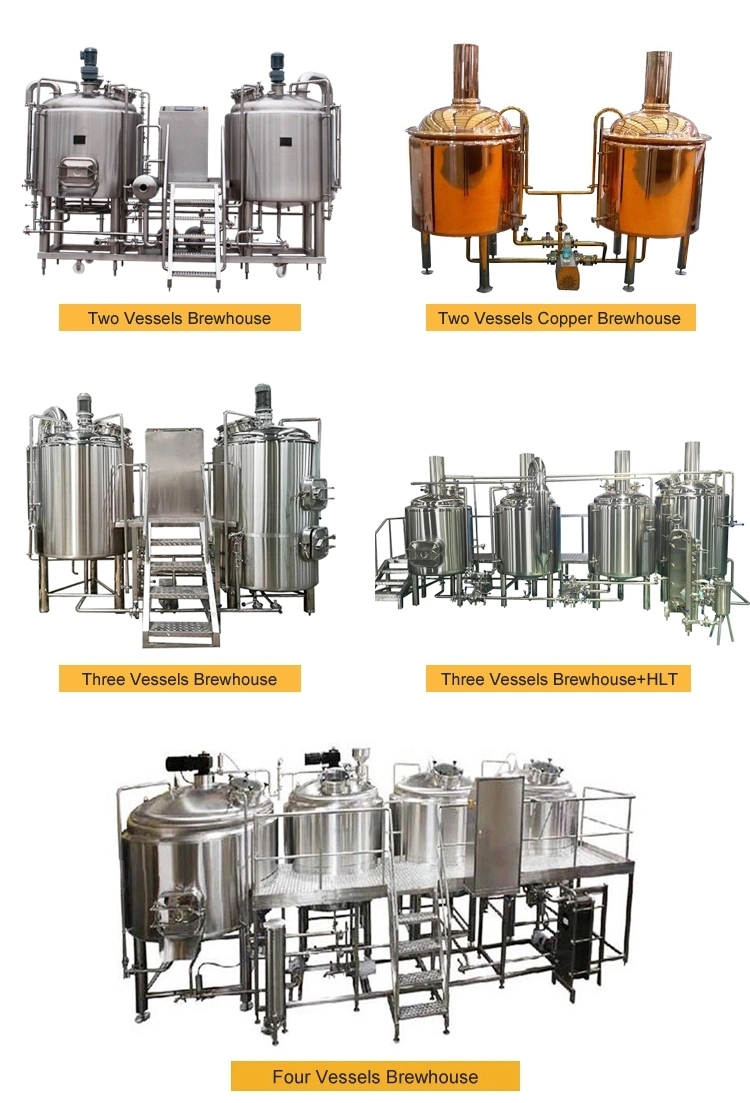 2. 1000L Brewhouse of micro brewery for sale usa
The Heating Way
Steam
The steam heating would require a boiler/generator. It heat evenly and fast, also easy to control temperature, not scorch the pot.
Direct fire
The burner and agitator are equipped with kettle. If you adopt decoction mashing way, the wort is easier to scorch. If so, the steam heating is more suitable.
Electric
The electric heating behaves well for the volume under 500L, saving the investment on the boiler/burner, if there is no condition to use the boiler/burner or it is more economical by using electricity.
The structure
1000l Two vessels
Mash/lauter tun+Kettle/whirlpool tun
Mash/lauter whirlpool tun+Brew kettle tun
1000l Three vessels
Mash tun+Lauter tun+Kettle/whirlpool tun
Mash/Kettle tun+Lauter tun+Whirlpool tun
1000l Four vessels
Mash tun+Lauter tun+Kettle tun+Whirlpool tun
The Manway
Stainless steel
Affordable
Glass
Easy to observe the tank inside
False bottom/filter
False bottom/filter
We use the Laser cutting V-wire False Bottom/Filter. This kind of False Bottom/Filter is more stronger, even and nonpollution of welding.Using this false bottom when lautering, you will find that the grain bed is easy to form well and it will be also easy to clean when you finish the lautering.
Rake
Rake
We now use the Long-style rake; the teeth of the rake is varied so that it can agitate the wort lengthways and transversely, plus its length, the rake can help to make the malts mix with the water soon and make the wort flow smoothly and help to form a efficient grain bed for better lautering. In addition, the automatic rake lifting units is optional for customer.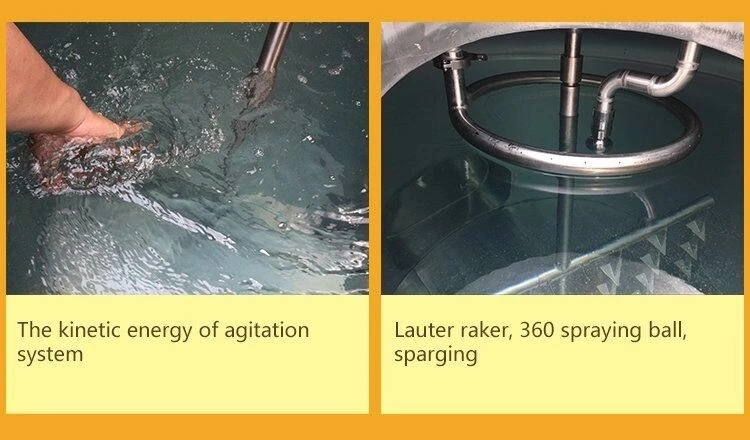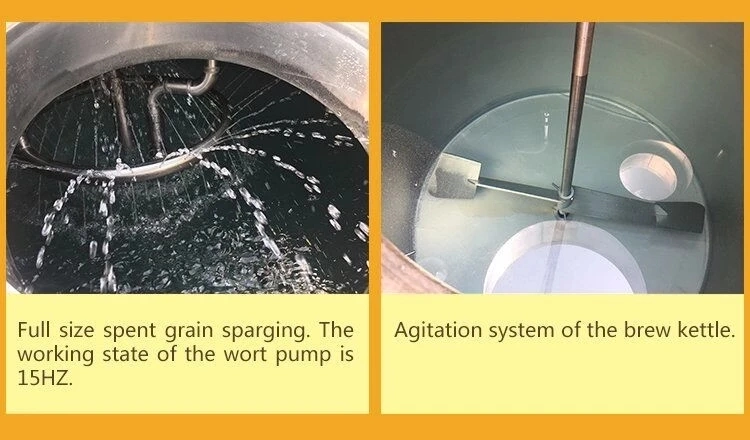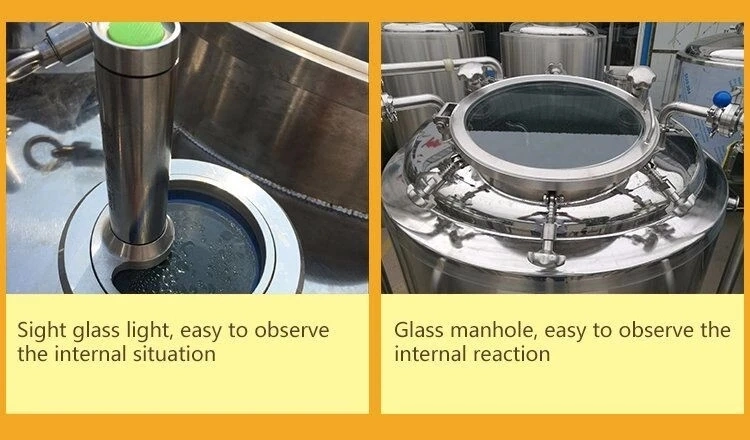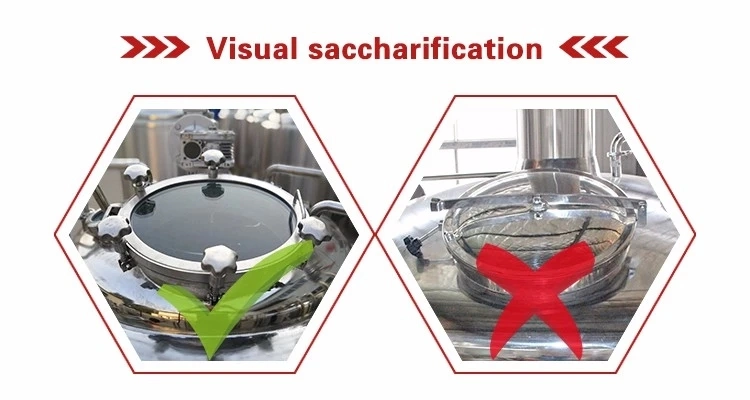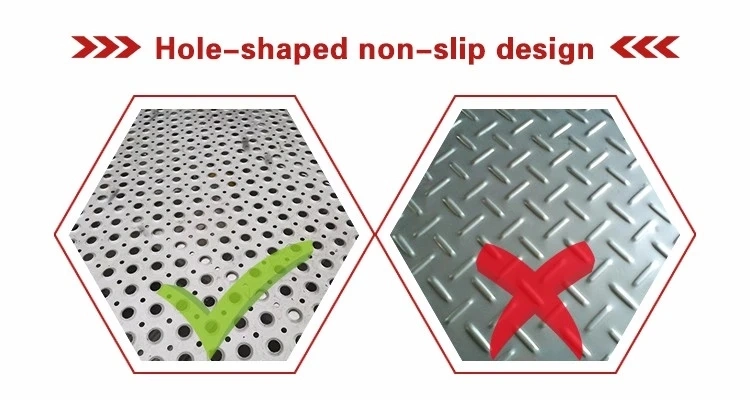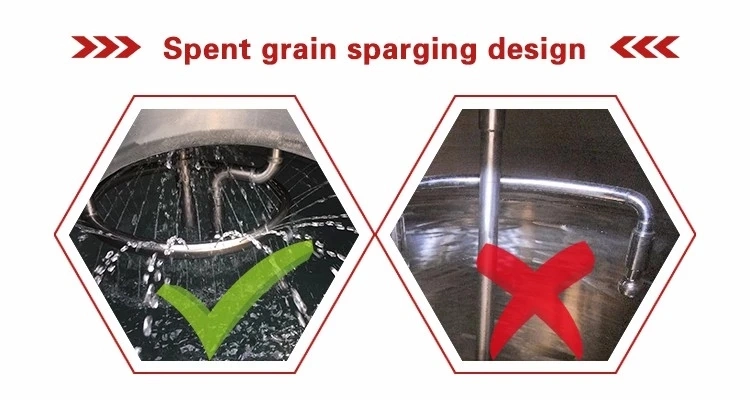 Stainless steel fermentation tank
Stainless steel fermentation tank made of high quality food grade stainless steel materials through cutting, welding, polishing and testing.
100% Stainless Steel 304 Construction;
Dimple plate jacket for glycol cooling ( cover body & bottom);
2″ PU foam Insulation;
Tanks designed for up to 14.7 PSI and tested at 30 PSI ;
Inside of the tanks are polished to Ra>.22um & the outside is a brushed / Satin finish.
Shadowless Oval Manway open inward and outward;
CIP with Spray Ball and downtube;
Thermometer (PT-100) in thermowell at side;
Sample valve;
Bottom outlet with TC Butterfly valve;
Adjustable legs with pads;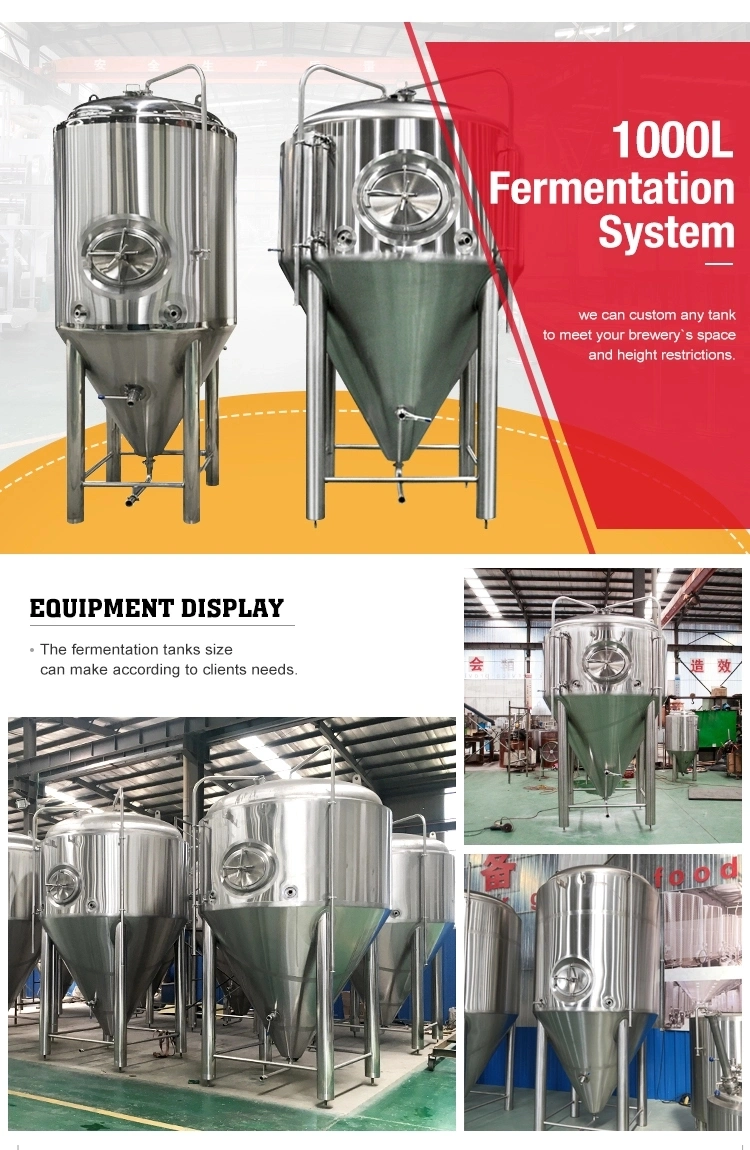 Stainless Steel Fermentation Tank Optional Features
Pressure Relief/Vacuum Valve Available
Rotating Racking Arm with TC Butterfly Valve;
Carbon Stone Available
Extra Ferules installed per ferule 1″ thru 3″ sizes
Sight Level Glass with 2 valves Installed;
Other Manway style;
Single Layer without jacket & insulation;
Stainless Steel Fermentation Tank Technical Parameter
Tank Material
Sanitary stainless steel 304
Tank thickness
inner tank-3-4mm, jacket-1.5-2mm,cladding-1.5-2mm
Agitator
Raking system conneted into a top reducer

Bottom head type

Saccharifing Units- Flat bottom or 120º~185º cone
Fermention tank-- Conical degree 60-75ºC
Jacket type
Dimple jacket on the cylinder and cone parts

External surface

Stainless steel 2B board/Mirro polish/Matt wiredrawing processing
Thickness=2mm,if need,could choose copper for outside
Pre-sales Service:
Help clients to confirm the configuration list
Supplying different beer craft specification
Designing the drawing according to client's floor plan and requirement
Showing the detailed diagram of the tanks
After-sales Service:
We provide monitoring system, onsite installation service for brewery projects.
It's available for us to send engineers to client's country for installation and training.
3 years of life time guarantee
Online technology consult